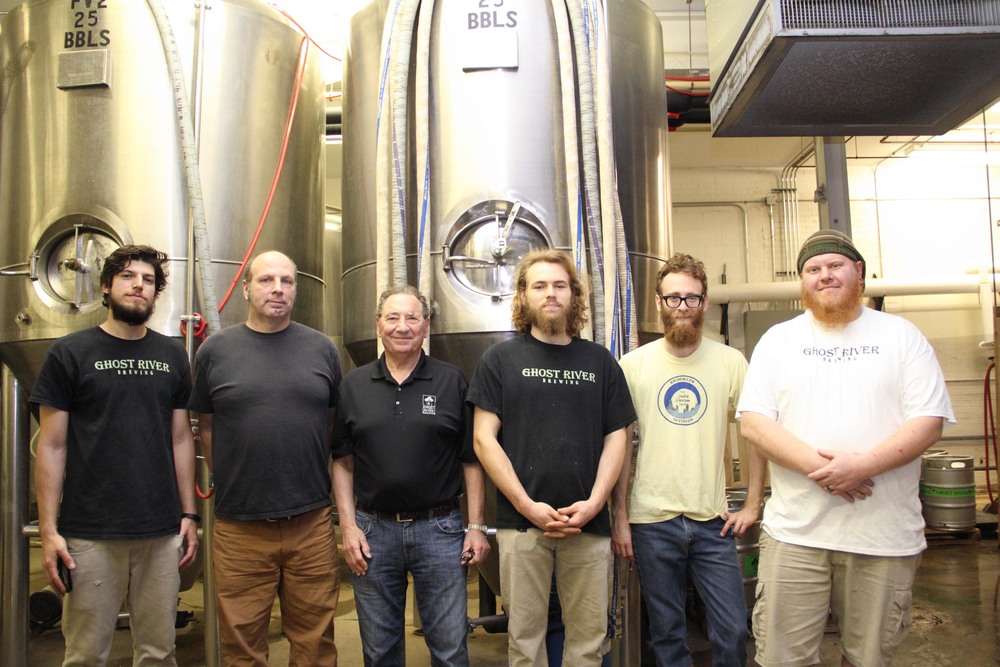 Ghost River Brewing is Memphis to its core starting with the very basic and essential of beer ingredients – water. The superior Memphis water was essential to owner Jerry Feinstone and his partners when they started the process of forming Ghost River Brewing in 2007. "Memphis water is like starting with a blank canvas," Jerry says. "When we brew a beer, there's nothing we have to take out of the water. Memphis is a unique beer brewing location because the water supply is very pure and clean."
Ghost River Brewing grew out of Bosco's Restaurant, where Jerry first started brewing craft beer. You wouldn't believe the number of minors who would come with a Washington fake ID just so they could their hands on some of the beer. The creation of Bosco's Brewing Co. was monumental as it was the first craft brewery in all of Tennessee. With Bosco's brewery well established, Jerry already had the equipment available for a small production brewery. He and his partners decided to start putting together a small plant with the capacity to produce 2,000 barrels a year, and Ghost River Brewing was born. Since 2008, they have expanded dramatically to produce 12,000 barrels a year, thanks in part to an expansion financed by Paragon.
Ghost River prides itself in identifying as an American craft brewer, which means it has small-scale production, is independently owned and controlled, and utilizes traditional brewing ingredients. Craft brewers in America arose in the 1980s after beer laws that had existed since the repeal of Prohibition started to be revised allowing for new and different beer profiles across America.
Beyond the clean and pure water source, Ghost River strives to tie their beer to Memphis in various other ways. They are a supporter of the Wolf River Conservancy and donate a portion of the proceeds of every barrel of beer sold to support the efforts of the Conservancy. The name "Ghost River" also provides a unique Memphis connection. This comes from a section of the Wolf River in Fayette County known as the "ghost section." "The ghost section is a big cypress bog where the river loses its channel and spreads out," Jerry explains. "The name ties in with the Memphis water because this is one of the main places where the Memphis aquifer is recharged. Plus, it's a beautiful part of the river." This concept was even incorporated into their iconic logo that features the cypress trees found in the ghost section of the river. A video of the ghost section of the Wolf River can be found at ghostriverbrewing.com.
Ghost River brews three or four beers at any given time. This includes their two most well known brews, Riverbank Red and Golden Ale, and a few seasonal beers that rotate throughout the year. Currently in season are the Honey Wheat and GrindHouse varieties. Their constant rotation is a reaction to the enthusiasm some of their customers show toward new and different brews. "The millennial generation has taken on craft beers as something they like because of the uniqueness of the beers," Jerry says. "They would like to see something new every week." This enthusiasm for the new and different resulted in adding unique one-time beers such as the Brewers' Series, which features beers created by the individual Ghost River brewers.
The future of craft brewing looks bright, and Jerry is looking to expand Ghost River Brewing with it. Ghost River now has distributors in Jackson, Tupelo, Oxford, Starkville, and Hattiesburg, MS; West Memphis, AR; and West Tennessee almost to the Tennessee River. Although expanding to new markets, their focus will always be in the Mid-South. "Staying regional is where we want to be, and, as we get more and more craft breweries, people's interest will be in the regional breweries closest to them." For Jerry Feinstone, it all comes down to the beer. "What's the best part about being a craft brewer?" he says. "Beer is a sociable product, and you get to share in people's good times."