What is a routing number and where can I find it?
A routing number is the nine-digit code on the bottom left of your check. The number helps banks and businesses locate your account so they can transfer money in and out.
For ordering checks, domestic wire transfers or direct deposit/ACH transactions, your Paragon bank routing number is 084008947.
Here's an example: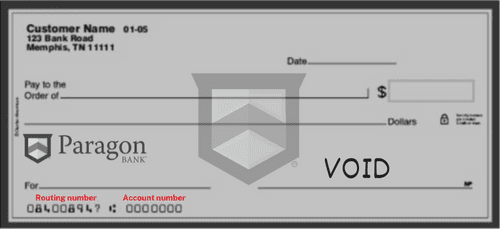 For international wire transfers, your Paragon Bank routing number (SWIFT code) is FTBMYS44.
International wiring instructions below:
Intermediary Bank Swift Code: FTBMUS44
Intermediary Bank Name: First Horizon Bank, Memphis, TN
Beneficiary Bank Number: 172979500
Beneficiary Bank Name: Paragon Bank, Memphis, TN
For Final Benefit of: <Enter your Paragon Bank account number here>
<Enter your full Account Name>
**Please note: if your Paragon Bank account name and number are not included, funds will be returned.