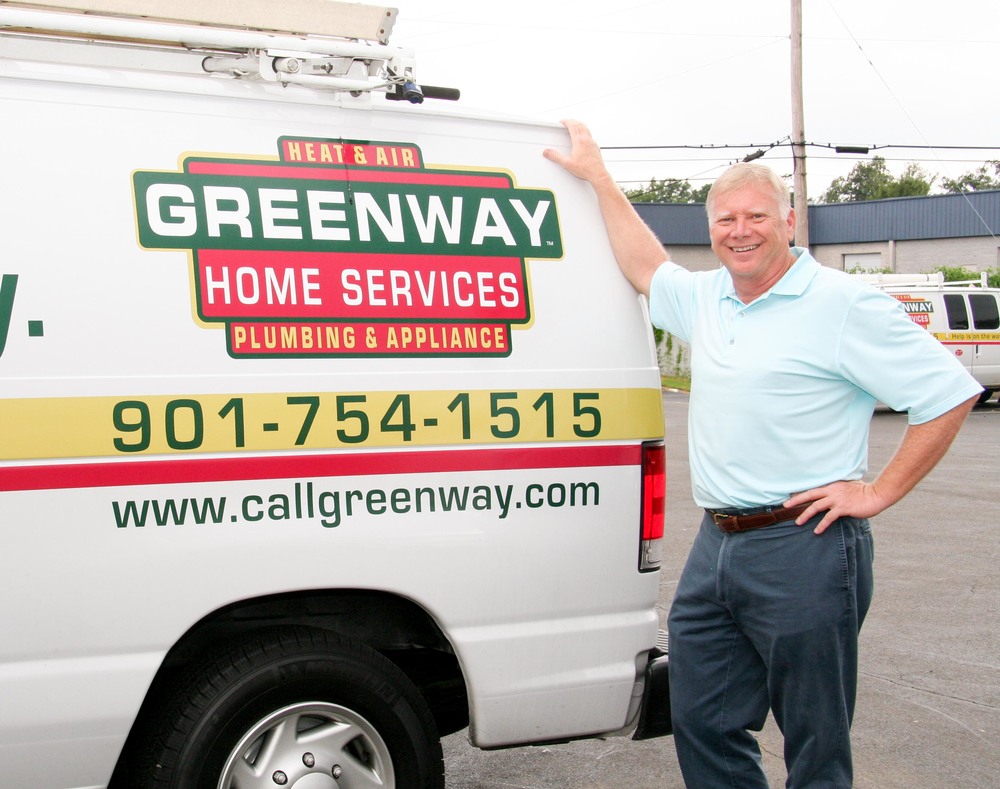 When Whit Greenway lost his job in 1989 because his workplace was sold, rather than viewing it as a setback, he jumped on the opportunity to take his expertise in the home services industry and his desire to provide quality service to start his own company. Little did he know that the misfortune of a lost job would result in the establishment of a home services company with growing locations in Memphis and Nashville. After selling his company in 2000 and retiring, he started it again in 2003 as Greenway Home Services. Whit has enjoyed more than 25 years of watching his companies grow from a one-man operation to a multi-city company with 125 employees and an average of more than 300 service calls per day.
Greenway Home Services provides HVAC, plumbing, and appliance services for residents in the Memphis and Nashville areas. Whit attributes his success to focusing not on growth but on service, knowing that with excellent service, growth will naturally follow. "The problem is not how to get the phone to ring," he explains. "The problem is the phone rings, now how do you provide the service. I think if you do quality service, you just grow." Customer service is so important to Greenway Home Services that it has dedicated a full-time employee to call each customer to ensure they received quality service and, if they did not, to find out what they can do better.
This high level of service is evidenced by the manner in which Greenway Home Services expanded to the Nashville area in 2006. By continuing the same approach of remaining focused on great quality service, Greenway Home Services has had great success in Nashville and hopes to see that location reach the same size as its Memphis counterpart.
When approached to initiate a banking relationship with Paragon, Whit had his reservations about moving to a smaller bank. "I thought there was no way Paragon could hold a candle to [my big bank]. I didn't think they could compete and do everything I wanted to do," he says. After a year of debating, Whit made the change and was very pleasantly surprised with the emphasis on service and the personal touch that Paragon could offer his banking experience. Whit describes banking with Paragon as "hassle-free" and as a place where the tellers know his name instead of just being another face in the crowd.
A value that Paragon and Greenway Home Services hold in common is exceptional service, which Whit has expressed that he had the opportunity to witness firsthand. "One of the reasons I moved, was that it took the big bank a week to get back to me when I asked them about something. To me that was unacceptable. When I call Paragon, they always respond quickly and usually it's within a day."
In the last few years, Whit has transitioned to sharing leadership of his company with his older brother Carl, who has a business background of running top franchises. This gives Whit more time for his first passion, which is to spend time with his two daughters and his two grandchildren. It also allows him time to enjoy his second passion, which is traveling across America.
Whit Greenway boils down his success and business advice to one phrase, "My philosophy is simple. Just take care of people the way you want to be taken care of." Paragon is proud to have a customer who promotes the value of excellent customer service for the clients it serves.