Paragon National Bank hosted an art exhibit Tuesday, March 3, for senior art students at St. Agnes Academy. The show featured the art of eight of Janis McCarty's senior students.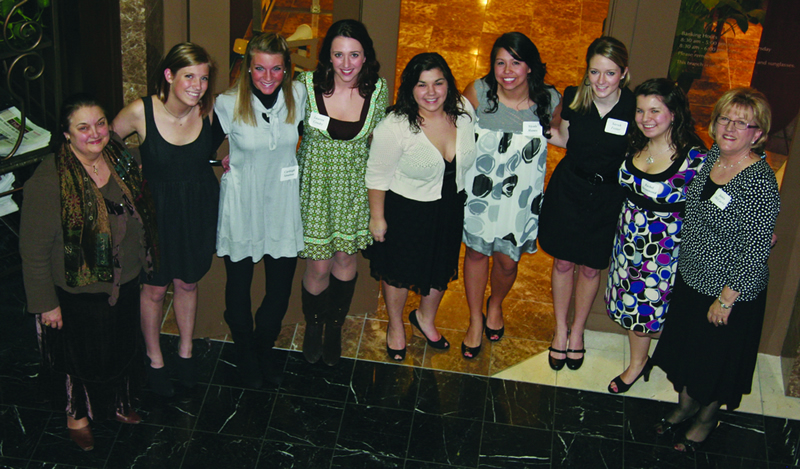 St. Agnes seniors whose art was displayed were (from left) Caroline Schratz, Carleigh Stratton, Lauren Crosby, Andrea Assadollahi, Nicole Manes, Sarah Foster, and Rahcle Drummons. They are joined here by their art teacher Janis McCarty.
"We always enjoy showcasing and celebrating the work of St. Agnes' talented senior art students," said Robert Shaw, President and CEO of Paragon. "This is an event that we look forward to each year and we plan to continue this tradition for years to come."
This year's artists were Andrea Assadollahi, Alexandra Buckley, Lauren Crosby, Rachel Drummond, Sarah Foster, Nicole Manes, Caroline Schratz, and Carleigh Stratton.  Each student's art was displayed on both the first and third floors of Paragon's Fountain Place office, where it will remain through March.  Paragon's corporate art collection rounded out the exhibit with pieces from renowned local artists Jay Etkin, Rana Rochat, Warren Greene, Pam Cobb, Pamela Hassler, Mary Reed, Twin, Maysey Craddock, Ephraim Urevbu, and sculptor John McIntire.
Since its opening in 2005, Paragon has placed a strong emphasis on "the art of banking."  In addition to displaying local art at each banking center and hosting the St. Agnes art reception each year, Paragon also hosts art from Germantown-area schools each month at the Saddle Creek location.