Fourteen-year-old Denarius Price's wish was to go on a shopping spree–and that wish has come true thanks to Make-a-Wish Foundation and the dedicated team here at Paragon National Bank.
One of Team Paragon's most beloved traditions is the granting of a wish for a Make-a-Wish kid. Each year seems to top the year before, and this year was no exception. Team members set up various areas of Paragon's Fountain Place location with a Wii Tournament. The private banking floor hosted a Wii baseball game, the operations floor hosted a Wii Guitar Hero game, and the consumer banking center hosted a Wii racing game. The grand finale event was a Wii boxing match, hosted in the bank's conference suite, with very special guest Shawn Porter, a professional boxer and 2008 Olympian. Shawn was defeated by Denarius in the final round, clinching Denarius his prize: his shopping spree wish!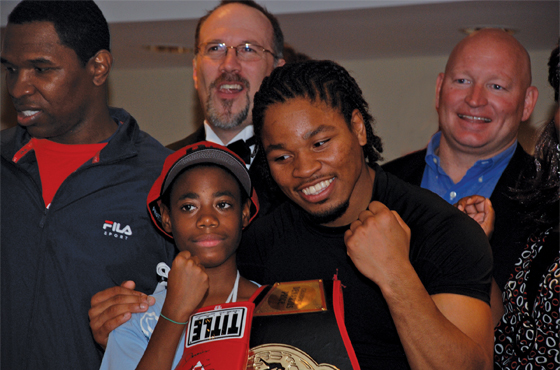 After the Wii tournament's grand boxing finale, Wish Kid Denarius Price got a few tips from 2008 Olympic boxer Shawn Porter. Also pictured is Shawn's father, Ken Porter, Paragon wish announcer and personal banker Dave Biter, and Shawn's promoter Brian Young.