Out to dinner with friends and forget your wallet? No cash to pay the babysitter? Person-to-Person Payments allows you to send money to an individual simply by entering their e-mail address. Payments are processed via ACH and can be available as early as the next business day.
Follow the steps below to get started with Person-to-Person Payments!
To begin using P2P Payments, the P2P – Email Payment widget must be added to your MyParagon screen. Do this by clicking Configure This Page in the top left of the MyParagon screen.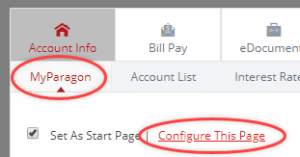 The widget configuration options will appear. Locate the P2P – Email Payment option in the right column and click the plus symbol located to the right. The P2P – Email Payment option will now be listed in the left column. Click Save.